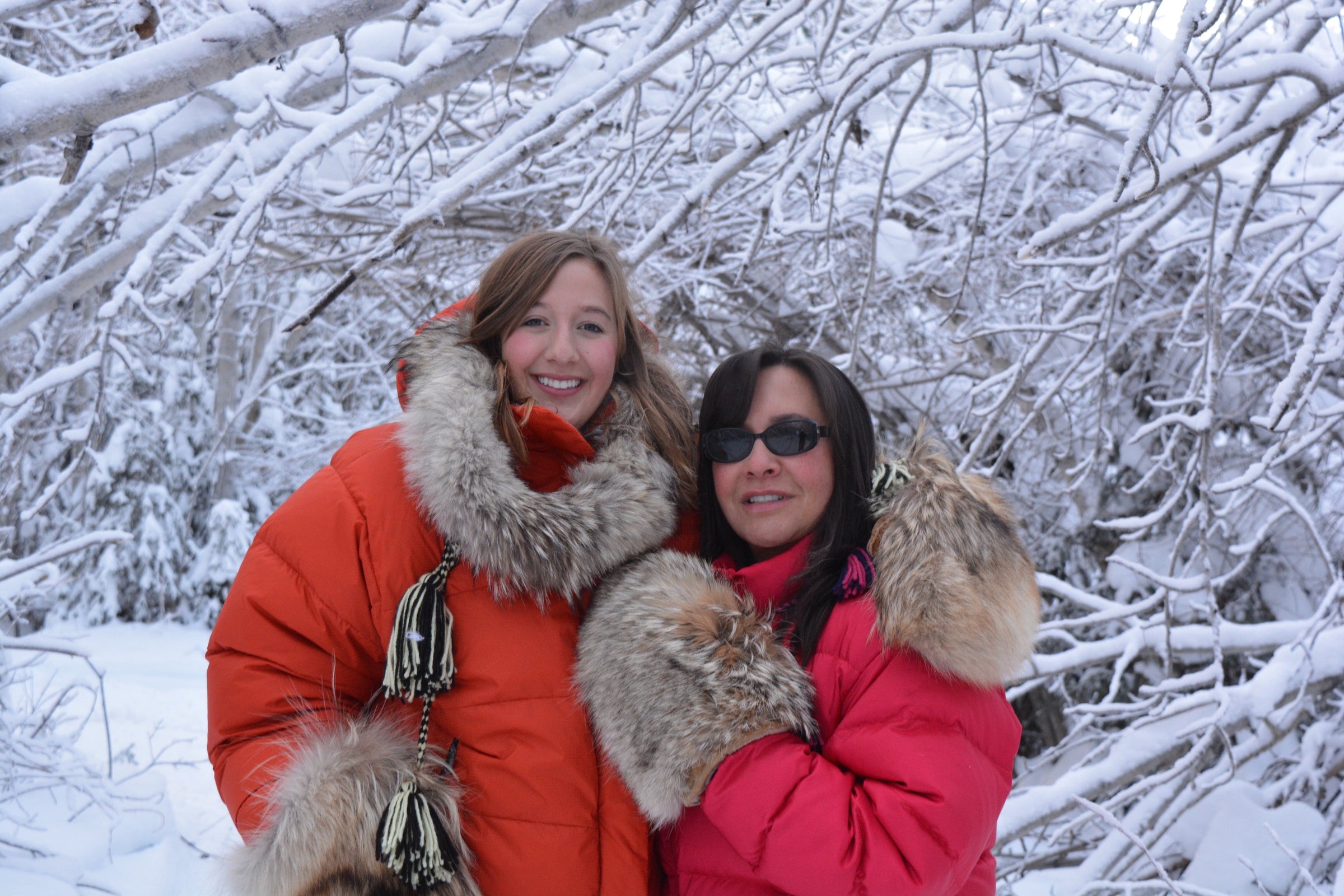 Living in harmony with Nature to keep warm
Like most Northerners, we proudly wear fur.
My parents, David and Jane Dragon raised a large family dressed in wild furs from their trapline. We were healthy, outdoor kids and despite temperatures that often dipped to -40, we were never cold!  Mom made our hats, mittens, moccasins, and parkas. Setsuné (grandmother in Dënesųłiné), is a talented seamstress sewing with furs and hides most of her life. When I became a mother, turning to wild fur was the natural way to keep my own family warm. 
Confident in a rich trapping heritage and the practicality of fur for warmth, I created Aurora Heat in 2015. It has become my passion to offer ways for you to make a difference. I dream of a world where humans are thoughtful about meeting basic needs, using natural and reusable products. A world where natural fur is the first choice for warmth, replacing single-use products, fast-fashion, and synthetic/petroleum based materials.
Like many of you, I am committed to Nature and value the interdependency between all living things. I love designing and creating sustainable, new-to-market products. In our workshop at the end of each day, there is no garbage in our bin. We use all parts of our pelts in deep respect and gratitude to the Land and to Tsa, the beaver. It is this world view that has formed our company's slogan, "Live in harmony with Nature."
Together, it is an honour to bring you our traditional way of keeping comfortable and warm. I promise you will love it! 

tThá Huná – May you live a long time,
Brenda Dragon
President & Founder
Vision
A future where humanity values interdependency with the natural world. Our actions show love and care for seven generations forward.
Values
We are a relationship-centered team that takes pride in making decisions guided by Indigenous ways of knowing for collective well-being.
Purpose
To respectfully open doors for the shift towards entirely sustainable economies and ways of living with intention, connection, and joy.
Words from Our Team
We uphold the tradition of beaver harvesting by offering natural wild fur products for you. I love supporting sustainable economy in our remote community, for both Indigenous women and men.

Brenda Dragon, President & Founder
As northern peoples, fur is important for our survival throughout long, cold winters. Fur is one of Nature's most useful gifts, and was always meant to help us keep warm and live our lives.

Mrs. Jane Dragon (Setsuné), Elder & Lead Cultural Advisor
Aurora Heat has saved me from freezing out on the Land numerous times, and the day to day comfort they provide is a major life hack. I'm thrilled to share amazing products!

Joel Dragon Smith, eCommerce Marketing Specialist
I love working with fur and do my very best making every piece look as good as they feel. Our workshop is an easy-going place with good vibes and I really like working here.

Bryanna Modeste, Lead Fur Artisan
True Canadian Warmth
Natural and reusable warmers designed, made and tested in Fort Smith, Northwest Territories (Thebacha, Denendeh). Our subarctic community is situated in Canada's Boreal Forest and is home to 2,500 people.